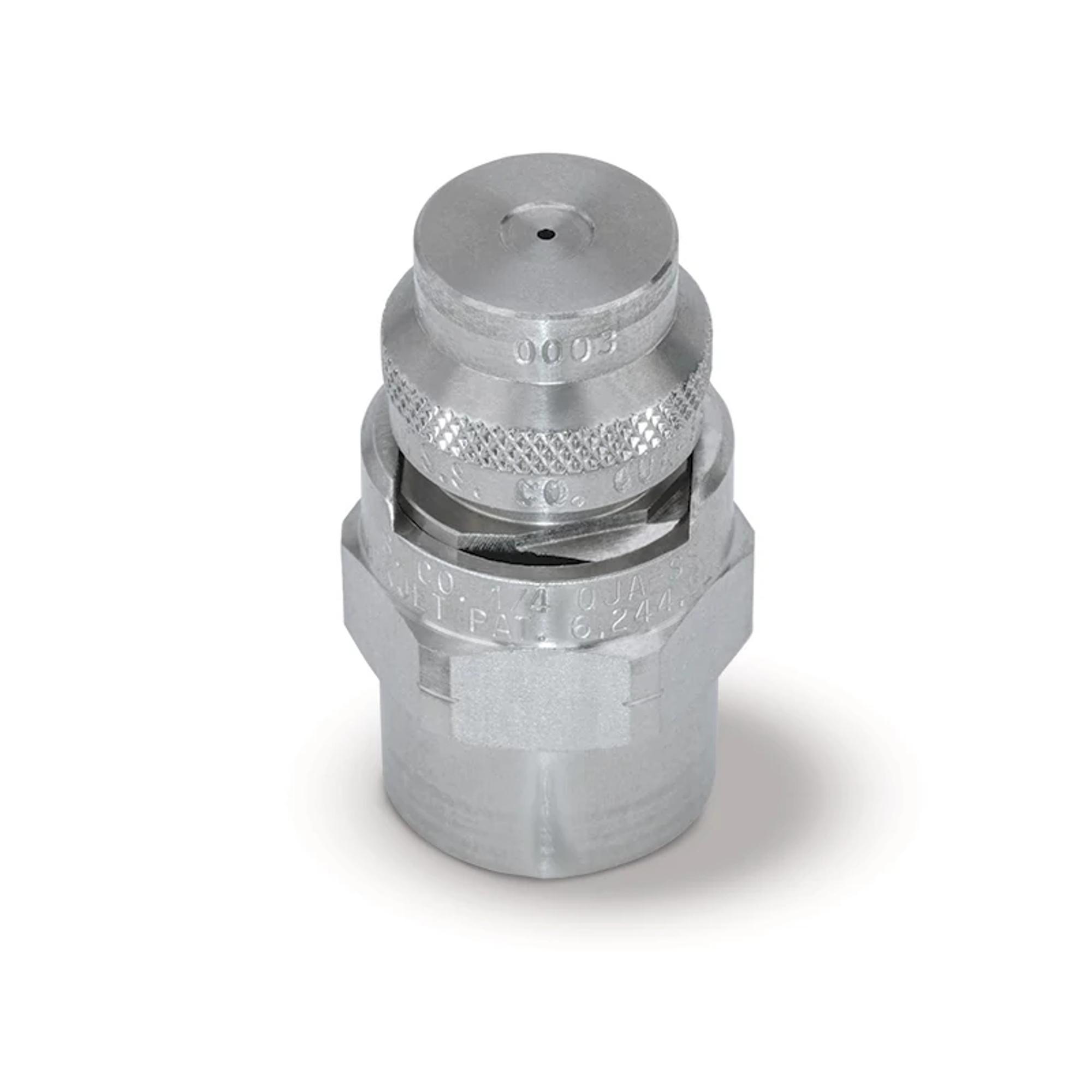 Images are representative.
Product Configuration
Inlet Connection Size:
1/4 in
Inlet Connection Thread Type:
NPT
Inlet Connection Type:
Threaded (Male NPT) + Quick-Connect
Material Composition:
303 Stainless Steel
General Information
Description
Ideal for high-maintenance operations – bodies remain on pipe/header; quick quarter-turn removes/installs spray tips in seconds
Automatic alignment feature saves time
Miniature versions are ideal when smaller physical size and lower weight are important
Flat fan type, tapered edge spray pattern
Spray angles from 0° to 110°
Uniform spray distribution with flow rates from .035 to 68 gpm (.14 to 255 lpm)
Operating pressures up to 300 psi (20 bar)
Choice of metal or ProMax. ProMax features:
ProMax material, a special grade of polypropylene, resists build-up and chemical attack; for use up to 150 psi (10 bar)
Internal O-ring provides a positive seal between the body and tip; seal remains attached to tip eliminating accidental loss
Optional external O-ring protects nozzle from contaminants
Tips are color-coded for easy flow rate identification
Flow
As the liquid exits through the sharp V shape cut of the orifice, it forms into a flat spray pattern. The distribution is tapered from the center of the spray.
Specification Summary
Inlet Connection Thread Type
Inlet Connection Type
Threaded (Male NPT) + Quick-Connect
Specifications
Configuration
Inlet Connection Thread Type
Inlet Connection Type
Threaded (Male NPT) + Quick-Connect
Liquid Flow Rate at Rated Pressure
Spray Angle at Rated Pressure
Drop Sizes
Relative Drop Size Group
500 - 1,000 µm (Moderate Rain), 1,000 - 5,000 µm (Heavy Rain)
Standard Feature
Equivalent Orifice Diameter