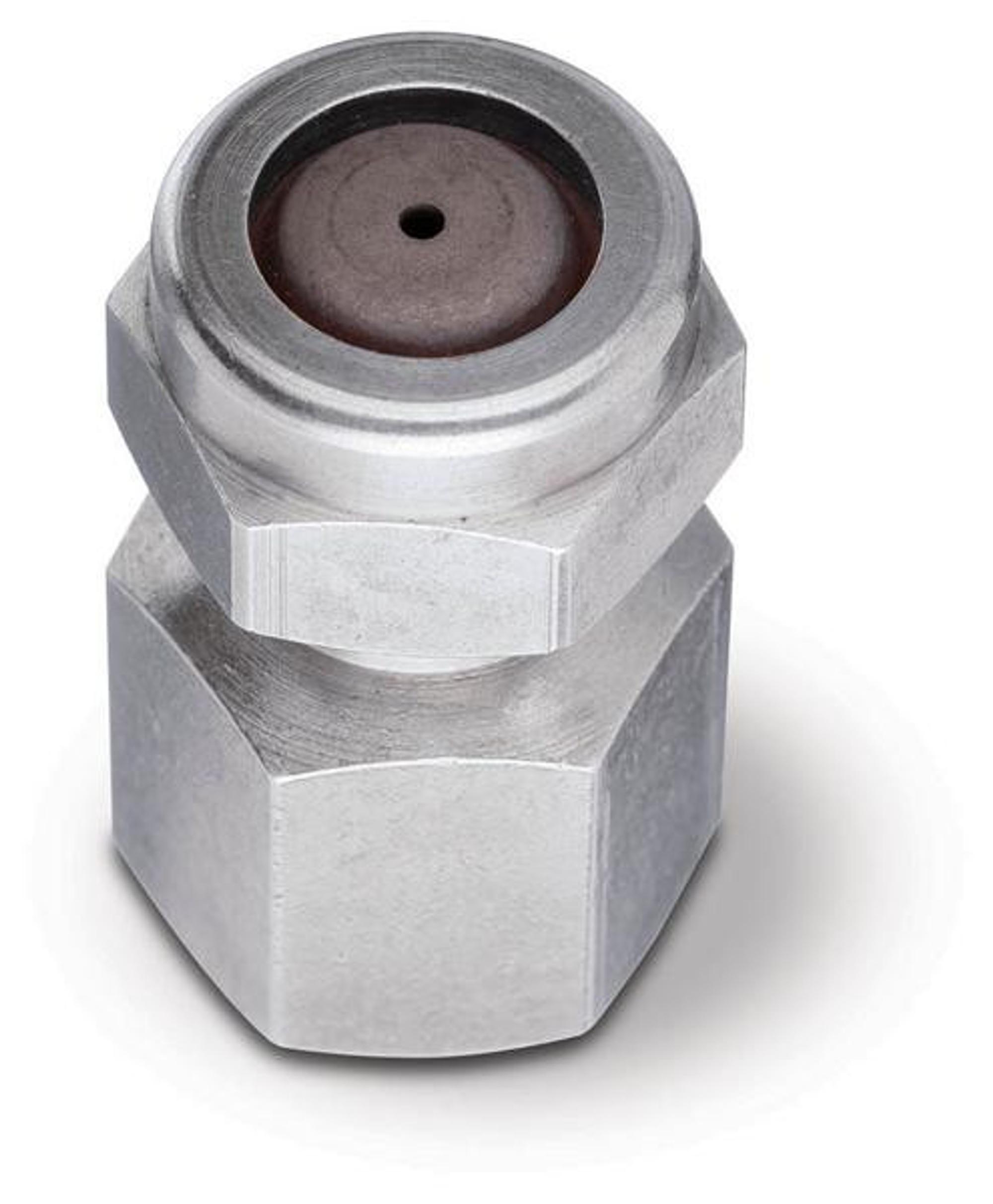 Images are representative.
Product Configuration
Inlet Connection Type:
Threaded (Female NPT)
Material Composition:
303 Stainless Steel (Body), Hardened Stainless Steel (Disc/Core)
General Information
Description
Quick-connect nozzles reduce maintenance time – bodies remain on pipe/header
Save on nozzle replacement costs – bodies can be reused, only spray tips are replaced; tips fit on male or female bodies
Hollow cone spray pattern with a circular impact area
Excellent atomization at relatively low pressures
Spray angles: Standard – 13° to 114°, Wide – 130° to 140°
Uniform spray distribution from 3.6 to 4,920 gph (13.2 to 17,760 lph)
Operating pressures up to 400 psi (25 bar)
Orifice inserts, cores and strainers are easily removed for inspection or cleaning
TN versions provide very fine atomized sprays using liquid pressure alone; compressed air not required
Spray angles: Standard – 43° to 91°
Uniform spray distribution from .82 to 184 gph (3.1 to 701 lph)
Operating pressures up to 2000 psi (140 bar)
Flow
As the liquid passes through the nozzle, it is forced to pass through slots in the orifice. These slots make the liquid spin in a circle at a high speed as it exits the orifice, creating the hollow cone pattern.
Specification Summary
Inlet Connection Thread Type
Specifications
Backend
Orifice Disc Number And Core Number
Configuration
Inlet Connection Thread Type
Liquid Flow Rate at Rated Pressure
Material Composition
303 Stainless Steel (Body), Hardened Stainless Steel (Disc/Core)
Spray Angle at Rated Pressure
Drop Sizes
Relative Drop Size Group
100 - 500 µm (Light Rain), 500 - 1,000 µm (Moderate Rain)
Performance
Spray Angle
13° @ 40 psi, 15° @ 80 psi
Standard Feature
Equivalent Orifice Diameter