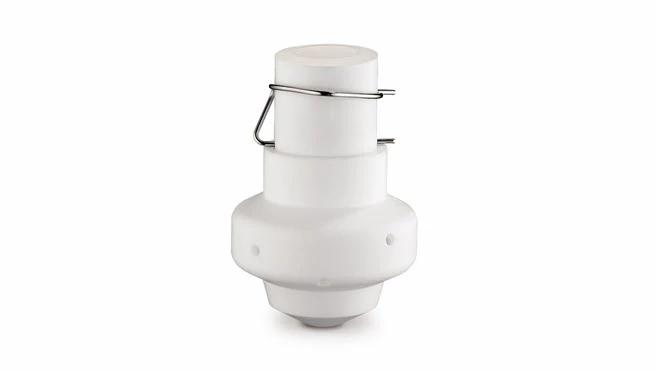 Images are representative.
General Information
Description
These sanitary, rotating nozzles resist harsh chemicals and provide low-pressure cleaning and rinsing of tanks, vessels and containers used for processing food, pharmaceuticals and chemicals.
Rotating nozzles for use with sanitary tubing resist harsh chemicals and provide excellent cleaning and more impact than static spray balls.
28500-R nozzles conform to 3-A Sanitary Standard 78 for spray cleaning devices to remain in place (does not apply to horizontal mounting).
Well-suited for clean-in-place systems; no motor source is needed as the reactionary force of the cleaning liquid rotates the spray head.
Threadless, tapered design promotes self-draining to prevent build-up on nozzle.
28500-R rotating spray head is easily removable from the body for inspection and maintenance.
Specification Summary
Inlet Connection Type
Slip Collar Pin Connection
Maximum Recommended Tank Diameter
Operating Principle
Fluid-driven Reactionary Force
Specifications
Configuration
Inlet Connection Type
Slip Collar Pin Connection
Material Composition
Body, saucer & spacer – PTFE fluoropolymer resin; Locking pin – 316 stainless steel
Standard Feature
Maximum Recommended Tank Diameter
Operating Principle
Fluid-driven Reactionary Force
Recommended Strainer Mesh
Tank Mounting Options
Vertical/Downward, Vertical/Upward, Horizontal, 45° Upward, 45° Downward