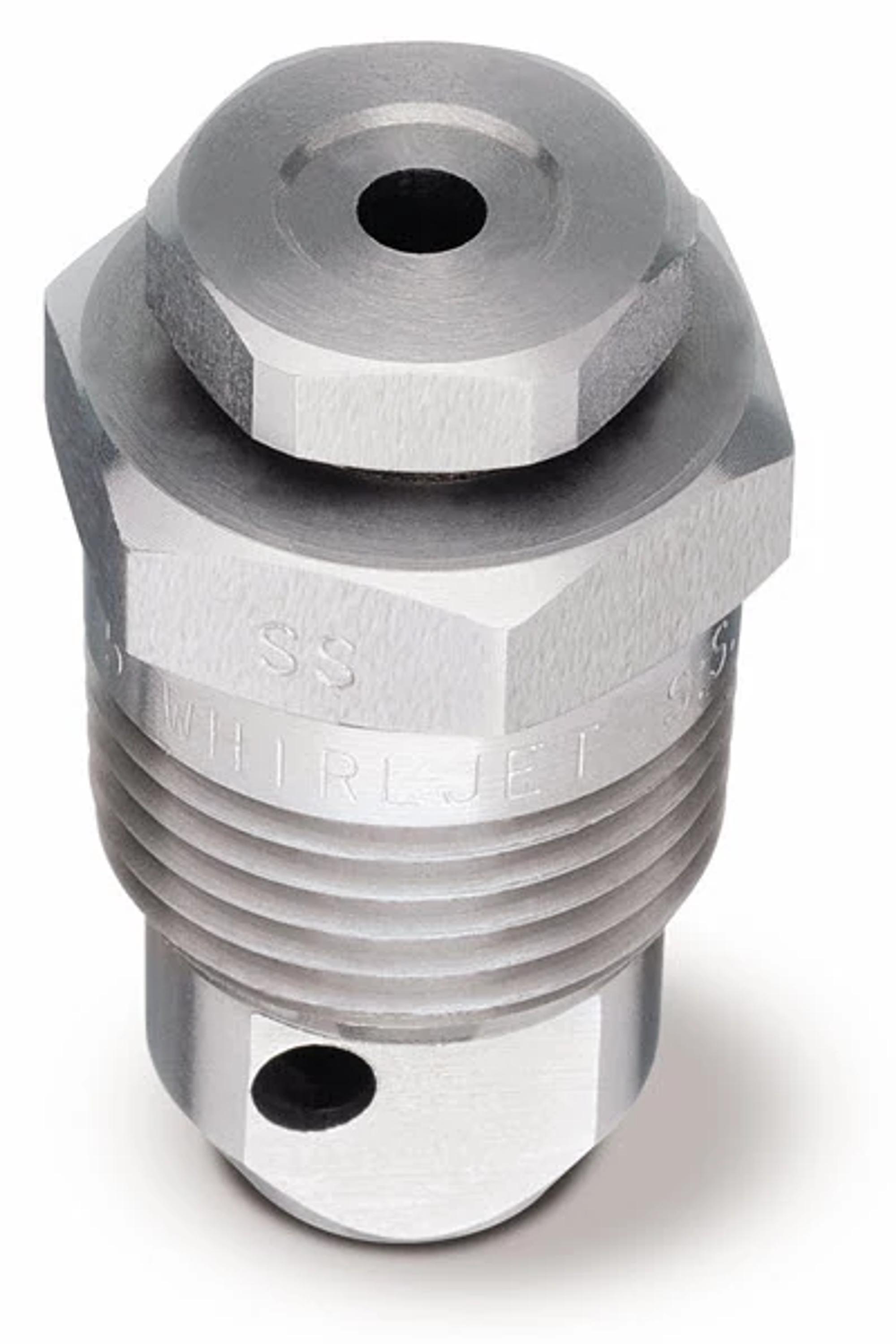 Images are representative.
Product Configuration
Inlet Connection Thread Type:
NPT
Inlet Connection Type:
Threaded (Male NPT)
Material Composition:
303 Stainless Steel
General Information
Description
Hollow cone spray pattern
In-line versions ideal for dust control in mining operations
BD versions have a lower profile projection for installation in a tee or pipe header
In-line BDM features recessed orifice area to protect from damage; self-locking cap to prevent loss due to vibration; fiberglass-reinforced nylon inlet body
BA offset style ideal for installations with physical space limitations
Spray angles: Standard – 43° to 94°, Wide – 102° to 125°
Deflected spray versions available with 120°, 150° and 180°included angle of spray at 10 psi (0.7 bar)
Uniform spray distribution from .11 to 38 gpm (.41 to 145 lpm)
Operating pressures up to 500 psi (35 bar)
Flow
Liquid passes through a hole on the inlet side of the nozzle. The liquid then enters a whirlchamber where it spins in a circle at high speed. The rotation forces the liquid away from the center toward the edges. This causes the liquid to exit the orifice in a hollow cone pattern.
Specification Summary
Inlet Connection Thread Type
Specifications
Configuration
Inlet Connection Thread Type
Liquid Flow Rate at Rated Pressure
Drop Sizes
Relative Drop Size Group
100 - 500 µm (Light Rain), 500 - 1,000 µm (Moderate Rain), 1,000 - 5,000 µm (Heavy Rain)
Performance
Spray Angle
70° @ 7 psi, 72° @ 20 psi, 73° @ 80 psi
Physical
Inlet Centerline To Spray Orifice Height
Standard Feature
Equivalent Orifice Diameter