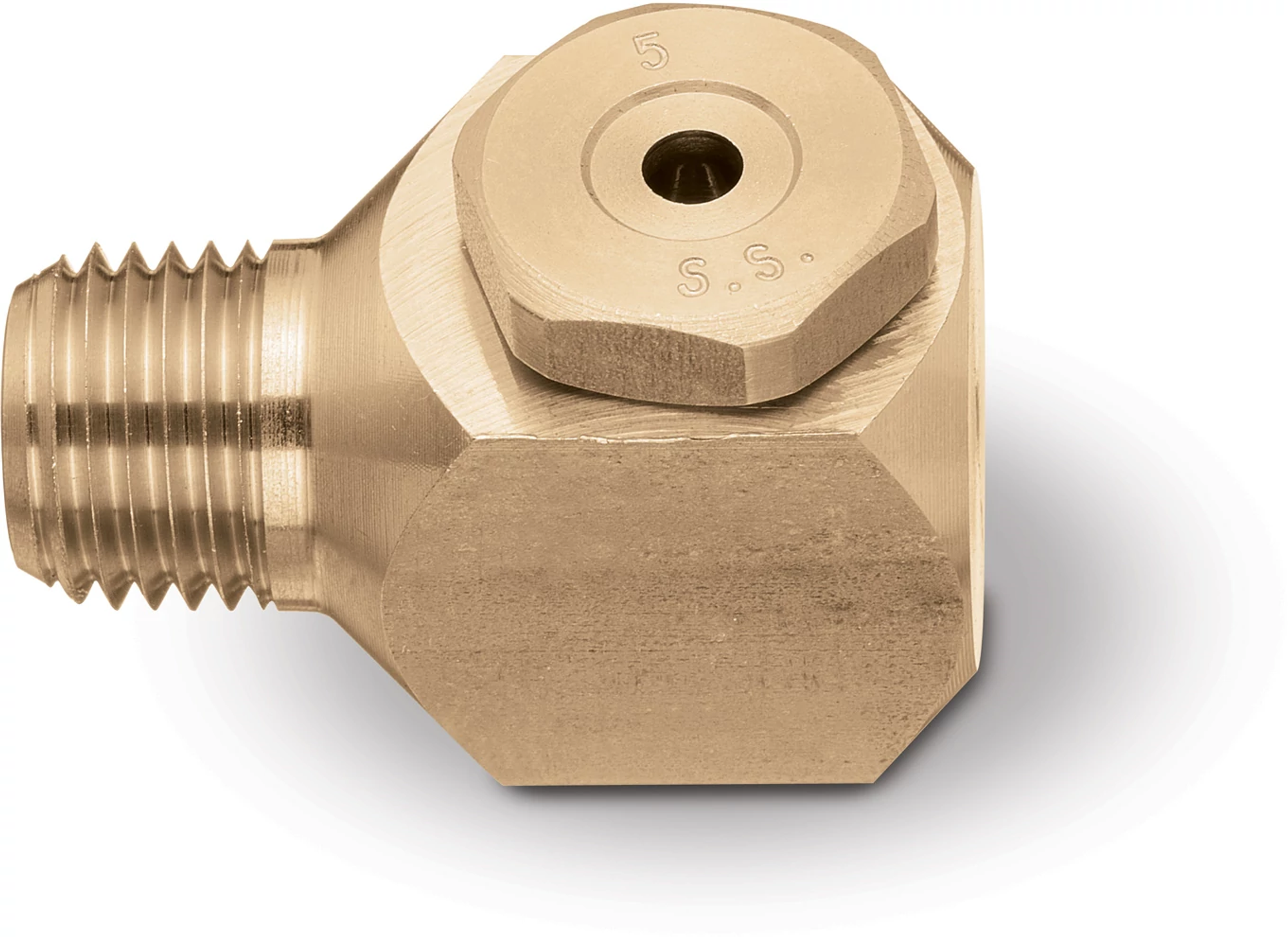 Images are representative.
Product Configuration
Inlet Connection Size:
3/8 in
Inlet Connection Thread Type:
NPT
Inlet Connection Type:
Threaded (Male NPT)
Material Composition:
Brass
General Information
Description
Hollow cone spray pattern with a circular impact area
Large, unobstructed flow passages minimize clogging
Good atomization of liquids at lower pressures – ideal for fluid cooling applications
Removable caps for easy inspection and cleaning on some models
Slope-bottom design models reduce the drilling effect of the fluid vortex in the fluid chamber and premature wear
AX and BX nozzles form smaller drops; ideal for use in air washers and dust suppression applications
CX, CF, CRC and D nozzles feature higher flow rates; ideal for use in larger, evaporative cooling spray ponds
AP, LAP and LBP nozzles are constructed of polypropylene and feature excellent corrosion resistance at temperatures up to 160°F (71°C); patented center post design provides extended wear life of the nozzle
Standard, wide and extra wide spray angles
Flow
As liquid enters the nozzle, it passes into a whirlchamber and begins to spin in a circle at high speed. The rotation forces the liquid away from the center toward the edges of the whirlchamber. This causes the liquid to exit the orifice in a hollow cone pattern. Some WhirlJet nozzles have a slope bottom in the whirlchamber that helps extend wear life.
Specification Summary
Inlet Connection Thread Type
Specifications
Configuration
Inlet Connection Thread Type
Liquid Flow Rate at Rated Pressure
Spray Angle at Rated Pressure
Drop Sizes
Relative Drop Size Group
100 - 500 µm (Light Rain), 500 - 1,000 µm (Moderate Rain), 1,000 - 5,000 µm (Heavy Rain)
Performance
Spray Angle
63° @ 10 psi, 70° @ 20 psi, 74° @ 80 psi
Physical
Inlet Centerline To Spray Orifice Height
Inlet To Spray Orifice Length
Standard Feature
Equivalent Orifice Diameter